Jacquie and Vashon competed in the Octoberfest Horse show at Donida this weekend.  Why it's Octoberfest in September, I don't know. It rained Friday night, Saturday morning and most of Sunday.  We were luck for a break in the weather on Saturday afternoon.   Sunday – we weren't so lucky.  We had to endure monsoon like conditions at times!   The barn cats even took refuge with us Sunday morning.
Despite the weather, Jacquie and Vashon had a great show.  They were the Children's 1.10m Jumper division champion for the weekend,  winning 2 of the 3 classes and placing 3rd in another – this round was not pretty and they were extremely lucky to have even made it around clean the first round and then got lost during the jump off.
They also placed 2nd in the 1.15m Mini Grand Prix and 5th in the 1.10 m Children/Amateur Classic.
Videos:
We shot mostly video at the show, but here are a few random pictures we did get:
Jacquie and Vashon are showing at the Twin Oaks Derby show August 4-9th.  Twin Oaks is located in Richmond, BC.    The weather has been perfect for showing and the two of them have been doing great.  Click on the links below to see her rounds.   Show photographers photos are here.
Jacquie and Vashon returned from a successful show at Thunderbird.   The two of them did a fabulous job.    They were champions in the Showpark 1.10m & Children's 1.10m Jumper divisions,   1st and 6th in Training 1.15m classes,   4th & 3rd in two different $1000 1.10 meter classics on Sunday.
The photos were taken by Totem Photography.   To see more pictures,  click here.
Below are links to videos of JQ & Vashon's rounds.
Christine put together a video for her science class about the bugs she found around the yard.  Check it out.
It's graduation day for Jacquie!   She is now officially a member of SHS  graduating class of 2009!    The day was a long and busy one – Baccalaureate Mass,  all school assembly, brunch,  graduation practice, dinner with her grandparents, the graduation and finally the reception.    I don't think we could have fit much else in there.     Click on the image below to check out the pictures.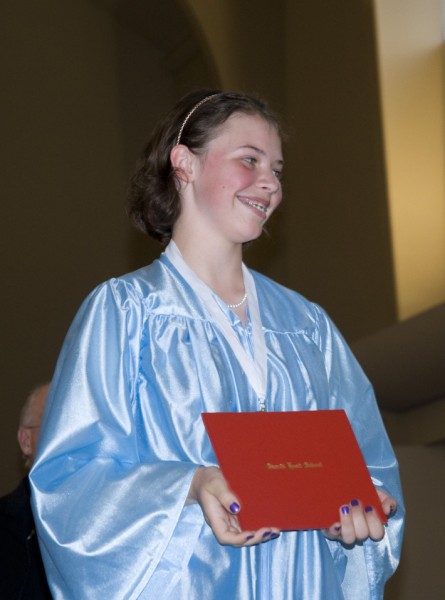 I'm sure everyone is getting tired of pictures of JQ & Vashon.    Their course today was a solid 3′9″ with the last fence set at 4′3″.   Jacquie is having  blast and constantly smiling.
Kasper wasn't feeling well late this afternoon.   He was attempting to colic.  After a shot of banimine and an oily bran mash,   he started feeling much better.
Both girls were green for Field Day today.   Their team placed 2nd.